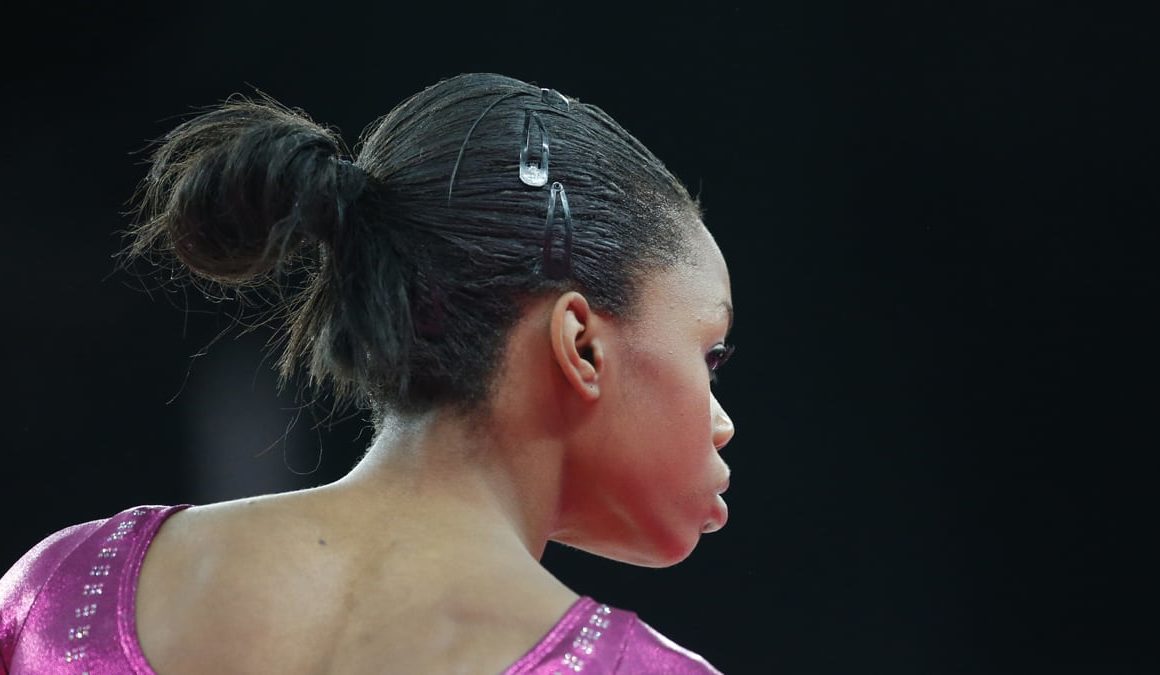 For Black Women, Issues of Image and Self-Worth Often Focus on Hair
via Big Tent on Adage.com
When Gabby Douglas unexpectedly captured the Olympic Gold medal in gymnastics this summer, I was elated, peacock proud and genuinely happy for the 16-year-old and her family. It was all the more special for me because she is African American. Then, incredibly, followed flack from critics black and non-black about Douglas' post-performance hairstyle!
She apparently used a chemical relaxer or heat to straighten her naturally coarse, kinky hair. At the roots was new growth that reverted to its natural state from perspiration. The combination of straight and kinky hair struggled through giant hair clips and the hairstyling gel used to maintain the same style as her teammates.
I, like many black folk, accepted her look because we understand how our straightened hair transforms when it comes in contact with moisture. It's OK. It's part of our culture. Our hair is different, but not deficient.
The shallow, thoughtless, tactless criticism, especially from blacks, was shocking, and I don't condone the comments or the attitude they represent. But they do put a spotlight on the ongoing issue that blacks, particularly black women, have about their identity.
Just last year, there was a big identity/hair discussion when "Sesame Street" featured the "I love my hair" video, which has come to be one of my favorites.
The show's head writer, Jim Mazzarino, who is white, created the video of a dark brown, kinky-haired Muppet character singing about why she loves her hair. He was motivated after his adopted Ethiopian daughter told him and his wife that she "wanted her hair to be long or blonde like Barbie or a princess." It was an early sign that the child was questioning her beauty, identity and self-worth through associations related to her hair. The video became an unexpected viral success.
Given society's intrigue with blacks' hair, the black community's frequent judgment about hair, and all the challenges associated with styling and maintaining their hair, black women are likely to spend two to three times as much money on their hair as white females. Hair weaving — the process of adding human or synthetic hair to existing hair via braiding, sewing or gluing — has exploded. At prices ranging from $350 to more than $1,500, many black women are selling their souls for this hairstyle.
Black women see weaves as extensions of themselves and say the longer hair styles are about style options and feeling feminine. What they don't say out loud is that long hair provides an equalizer for society that identifies long hair as the standard of beauty.
Chris Rock uses comedy to explore the hair-weaving phenomenon in his 2010 documentary, "Good Hair." I was drawn to one woman who wanted to get rid of her weave but was concerned about her husband's reaction (and possible rejection). She had the weave when they met and throughout their seven-year marriage. Her husband had never seen her natural hair. Then there were the celebrities who admitted that they did not exercise because they didn't want to ruin their weaved hairstyles. This rationale is a common barrier to exercise and a factor for poor health among black women.
"People of color are still dealing with issues of identity, self-love and race, head on— and daily," says Craig Brimm, blogger for kissmyblackads. He adds: "The bottom line is how unfiltered acceptance is still very important to African Americans and that hair still plays a (big) role in positive recognition."
For the marketer trying to open or grow a dialogue with the black community, the back stories behind many blacks' reactions to Gabby's post-performance hairstyle and the rationale for the Muppet video provide a glimpse into the importance of image and self-worth to the black community. This is important to understand because there is a tendency to think that in our society these issues are receding, but that is not the case. Change is happening, but at a slow rate. A few marketers who "get it" are celebrating black culture and black beauty by including models who represent a variety of skin tones, hair styles and hair textures in mainstream and targeted advertising.
I wonder … if Gabby Douglas had rocked an Afro puff, would we be having this discussion? But then could she comfortably rock an Afro puff? Given that society's (and Olympic) standards have not fully embraced natural black hair … I would say no.
---