"The outcome of a conversation with Pepper is an enlightened perspective and an empowered sense of direction because she is a masterful speaker who helps corporations and non-profits understand the value of Black consumers."
WHO IS PEPPER MILLER?
I've been called a conversation starter in the industry, but when introducing myself, my name, Persephone, often sparks a conversation all on its own. Pronounced per-SEH-foe-NEE, my name has Greek origins, and interesting roots. The name Persephone belonged to my mother's college best friend and roommate, and was given to me at birth, right along with her nickname, Pepper. I'm better known as Pepper and it is definitely easier to pronounce, but I own both of my names. I stand up for who I am because that is what I was taught to do.
Standing up for my name taught me the importance in standing up for other things in life that were of value. As an award-winning market researcher and speaker, author and Black American consumer expert, I use my professional platform to stand up for the Black community.
SOME OF OUR CLIENTS
AARP
American Airlines
AT&T
Bravo TV
BET
Chicago Symphony Orchestra
Chicago History Museum
Ford
General Mills
GSK
Kraft Foods
McDonald's
Northwestern Mutual
Pandora
PepsiCo
Pfizer
Procter & Gamble
Unilever
US Bank
Wintrust Bank
books that add value
Just as Pepper has a way with words in a conversation, she has a way with words in her critically acclaimed books — What's Black About It? and Black Still Matters in Marketing. Both are important reads for anyone who wants to delve deeper and build a better understanding for marketing to the Black American market.

The idea of total market frustrates me. And I am not alone in this frustration.
There are many of us who've lived and built our careers in multicultural marketing, and yet, we are struggling to understand the "business" of Total Market – what Total Market (really) is and isn't, and more importantly, how ethnic marketers and segments can win in this new era of Total Market. READ MORE ARTICLES BY PEPPER

NOV. 6-8 | 2019 ANA Multicultural Conference
Woke Marketing: Why Brands Can't Afford to Ignore Social Issues Impacting Black Consumers
Pepper

Miller and Reginald Osborne will tag team in this energetic upbeat presentation to explore how brands can play a role in addressing social justice issues in the Black American community while driving brand engagement, loyalty and sales.
MULTI-DIMENSIONAL MARKETING
HMG won the two year project and implemented a design that included qualitative research (focus groups) and quantitative research (direct mail). Findings from both research phases provided insights and direction for the market strategy and planning.
CONSUMER INSIGHTS & SEGMENTATION
Conducted massive qualitative/ quantitative study which helped develop a deeper understanding of African-American shoppers. The insights from this study were used to create targeted marketing strategies which resulted in increased sales.
MarketSpeak SNAPSHOT: OUR LATEST BLACK CONSUMER INSIGHTS —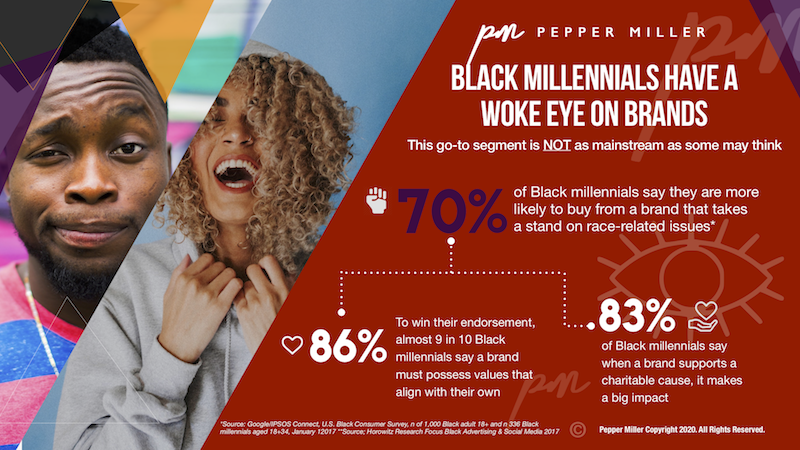 marketSpeak™
A snapshot into a closer look into consumer segments. | Subscribe to receive our marketSpeak circular.